After painstakingly selecting the perfect location in your yard for your garden shed, you undoubtedly expected the structure to instantly blend into its surroundings. Unfortunately, a little more work is required to make that expectation a reality. Since the garden shed has an aesthetically pleasing presence, the problem likely lies in the absence of plants framing the structure. A garden shed, especially when equipped with a trellis extension or nearby free-standing trellis, often only becomes a true part of your yard once it has been adorned with attractive flowers and greenery. To achieve the best results, you must carefully select the best plant varieties that will accentuate the design and materials used for your shed and trellis structures. Here are four options that will work in a variety of climate zones.
Honeysuckle
With nearly 200 honeysuckle species available today, it is easy to find several that will thrive in your local climate. Each variety of honeysuckle features a strong, sweet aroma and gorgeous, wispy flowers in wide range of colors. The vibrant red flowers of the Dropmore Scarlet, in particular, pairs beautifully with the light yellow tones of the cedar used to construct your garden shed and trellis. When planted in rich soil, honeysuckle vines will quickly grow to the height of your outbuildings and span across the top. You must steadily thin the bottom of the plants to ensure they keep produce attractive leaves and flowers year after year.
Clematis
The beautiful Clematis flower species is a group of climbing vines featuring vibrantly colored flowers offset by rich dark green leaves. Although this flowering vine can be grown in full sun, it prefers partial sunlight, making it a perfect plant to grow over your shed or trellis. You can even encourage this vine to wrap securely around the 4"x4" corner posts of your trellis and hang over the edge of the post wraps. You must watch this vine's progress as it grows to ensure it does not wrap around itself, which can inhibit proper growth.
Grapevines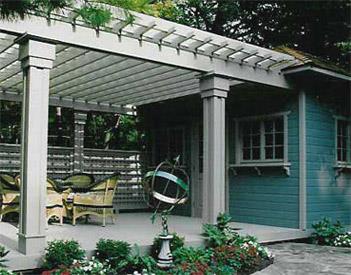 You can improve the look of your trellis, improve your health and save money to boot by growing grapevines along your shed and trellis space. When you grow your own produce, you are more likely to eat fresh foods and maintain adequate nutrient levels for excellent health. Since vines that produce table grapes are resistant to cold, most varieties do well in a wide range of climate zones. You will net the best results by outfitting the exterior of your shed or top of your trellis with sheets of lattice. The lattice supports the heavy grape bunches and simplifies the task of pruning the vines from the prior year.
Tri-Color Kiwi
When it comes to the tri-color kiwi, the white, pink and green leaves of the male plant is the star of the show. In addition to the showy male plants, you will also want to pick up a few females, which have delicate, light green leaves. The combination will produce edible kiwi fruits within a few years of establishing the vine in your vertical garden space. You will need to initially prune the vines, so they grow around the corner posts and weave between the slats. Stick with the cedar corner posts for your trellis, if you want to grow this species, as the wood provides a better growing surface than fiberglass does. Spread the vines out across the trellis to keep the fruit from putting too much weight on a particular section of your structure.
Expanding Your Vertical Garden Space
If you want to expand your vertical garden space even further, you can pick up additional trellis structures and outbuildings from Summerwood. The Custom Design Center allows you to customize the available structures to meet your needs. You can change the dimensions, materials and accessories to create a personalized outbuilding to suit your yard. If you need additional information about the available products that will work best for your project, go ahead and give the team a call at 1-866-519-4634.

More Posts You May Find Interesting